We are Manufacturer, Supplier, Exporter of Digital Temperature Controlled Solder Baths, Solder Bath.We engineer digital temperature controlled solder bath which is an all purpose and exclusive solder bath. It is used for various operations like tinning cum deep soldering. Our solder bath operates at a temperature range of 200 deg C to 400 deg C. This device has a potmeter for variable settings.
Size: 40 X 40 MM , 50″40 MM , 100″90″40 MM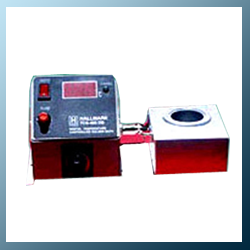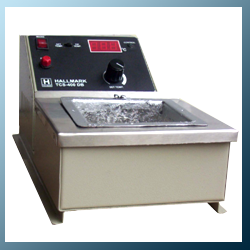 We bring high grade solder bath which are suitable for type of tinning operations in electronic an electrical industry. Our solder bath takes lesser time for heating the bath up to required temperature. It operates at 230 AC +10% voltage and has a main illuminated switch for starting or ending the operation. There is a one Amp. fuse to protest the device from short circuit. It has a round shape of 40/40 mm diameter and a capacity of 350 gm solder. It pot body is grounded to earth and it also have a powder coated box.
Our solder bath is used for various applications like component lead tinning, PVC wires end tinning, tinning of self solderable wires & silk, coated wire and wire harness tinning in electronic & electrical industries.
Size: 40 X 40 MM